A royal fan who was mistaken for a protester and detained by police at the Coronation has spoken about her ordeal.
Alice Chambers was handcuffed and held for 13 hours when officers arrested Just Stop Oil protesters she happened to be standing near to on the Mall.
The architect told BBC Newsnight she was handcuffed, fingerprinted and questioned in a police station.
The police say they are reviewing the incident and trying to establish the full details of what happened.
The 36-year-old – who first told her story to the i newspaper – said she spent hours in handcuffs in the back of a police van despite repeated attempts to explain the situation to officers.
"I was just sitting there waiting for the Coronation to begin. Next I realised the police had swooped in and handcuffed a whole heap of people," Ms Chamber said.
"I tried to say anything I could to say I wasn't part of that group [of protestors] but nothing could said that made a difference.
"I gave them my contact details. I showed them my ID and nothing seemed to be able to be said that made a difference really."
Describing how officers eventually questioned her after half a day in custody, Ms Chambers said: "They asked me, 'What were you doing on the Mall?' I explained everything and they looked at each other in shock."
"It's just been so shocking, and very emotional. It's not something you ever expect, to find yourself in a jail cell for a period of time," she added.
"Really you would think that this should never happen. Clearly there are processes that need to be put in place, or that weren't followed.
"No-one should endure an extended period under arrest, just because they're an innocent bystander."
Ms Chambers, who is originally from Australia but lives in London, was released without any further action and missed the Coronation celebrations in their entirety.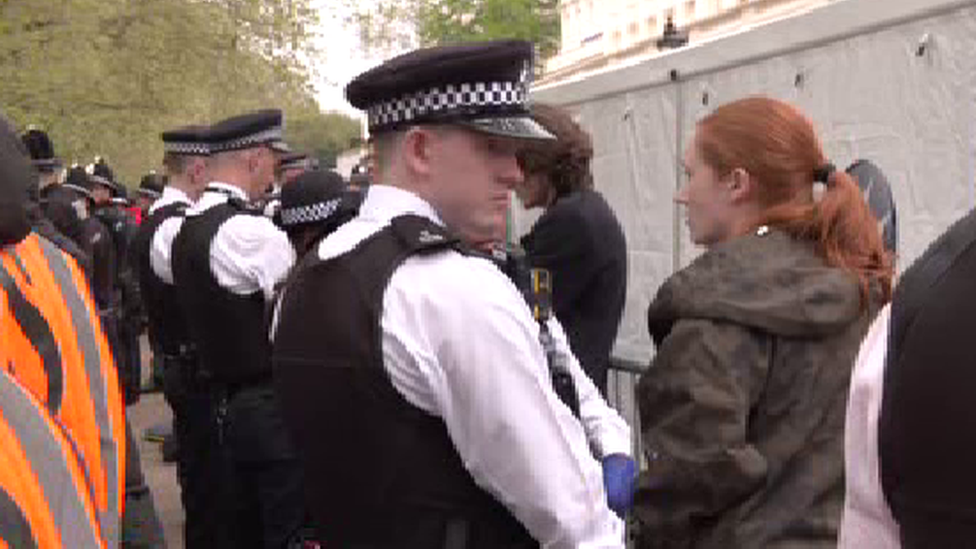 She accused the Met Police of "finger pointing" after it responded by saying the officer who arrested her had been drafted into London from Lincolnshire Police.
Ms Chambers said the Met "ultimately took over" from the arresting officer and detained her. She has lodged a formal complaint.
A Met spokesperson said: "The arresting officer was from Lincolnshire Police and the complaint has therefore been passed to the relevant force to investigate.
"The Met will assist by providing any relevant information they require."
Chief Inspector Simon Outen from the professional standards department at Lincolnshire Police, said: "We have now received a complaint and we are reviewing the incident, and we are in contact with the complainant to establish the full details of her allegations."
Policing around the Coronation has come under scrutiny after the Met expressed regret over the arrest of the head of anti-monarchy group Republic and five other protesters on the morning of the ceremony, despite them having coordinated a legal protest with the force.
In total, 64 people were arrested in London during the Coronation policing operation.
Police said 52 of these related to concerns people were going to disrupt the event. Four people have so far been charged.