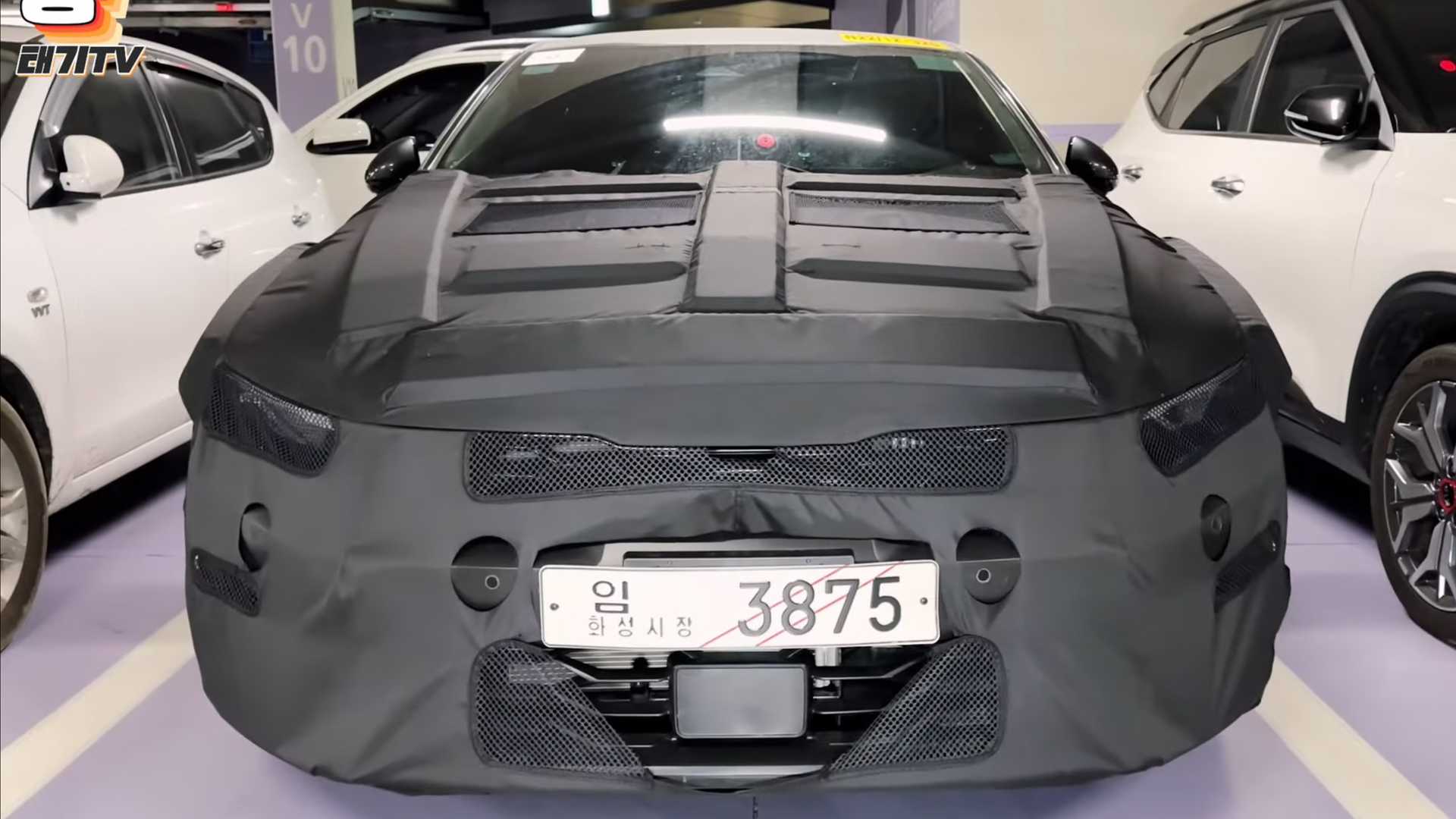 Kia replaced the Optima name with K5 for the fifth-generation model.
The Kia K5 hasn't fared well since it went on sale in 2020. Sales for the sedan have fallen, and there are rumors that the automaker is considering discontinuing it in America. However, the K5, formerly known as the Optima, is still on sale here, and a new video shows that it will receive a mid-cycle refresh.
While the video gets up close to the car, the thick cladding and camouflage conceal many of the changes. However, there are hints of the new design poking through. The K5 should receive a substantially redesigned front fascia. The stylized headlights look a tad more traditional on the revamped model, but the automaker obscured the daytime running lights, which could retain some of the current model's aggressive character.
The new lighting units should sit next to a redesigned grille and revamped bumper. The fake intakes and fog lights could receive some changes compared to the outgoing version. The video doesn't provide a clear look at the rear, but it should debut with new taillight units and a massaged rear bumper design.
The Kia K5's sibling at Hyundai, the Sonata, is also undergoing a major mid-cycle redesign. However, the underlying platform will carry over primarily unchanged in both models. We don't expect the automaker to tweak the powertrain setup significantly.
The video doesn't show off the sedan's interior, but the dashboard is supposedly covered. This could indicate that the K5 will get a revamped dash design, likely replacing the separate screens with a single-piece unit like in other recent Kia models. The Hyundai Sonata also hid its dashboard in some recent spy photos, and it's likely also receiving the new screen.
Catch More Kia News Here:
Kia EV9 Production Version Design Partially Revealed In Teaser Video
Refreshed Kia Carnival Spied With Big Styling Changes
Kia launched the fifth-generation sedan at what could be considered the worst possible time. K5 sales started in the US just months after the global pandemic stopped everyday life in 2020, including car production. The ensuing years saw automakers face troubled supply chains and limited inventories.
The automaker sold 66,298 K5s in 2022, down from 92,324 in 2021. K5 sales for 2023 are already down compared to last year. The redesigned Kia K5 should debut this year and go on sale for 2024, but it has an uncertain future. 
Source: 뻥태기TV / YouTube