Following some political squabbling, Tesla is building a new Gigafactory in northern Mexico. President Andres Manuel Lopez Obrador had threatened to veto the project because of the lack of water in the region.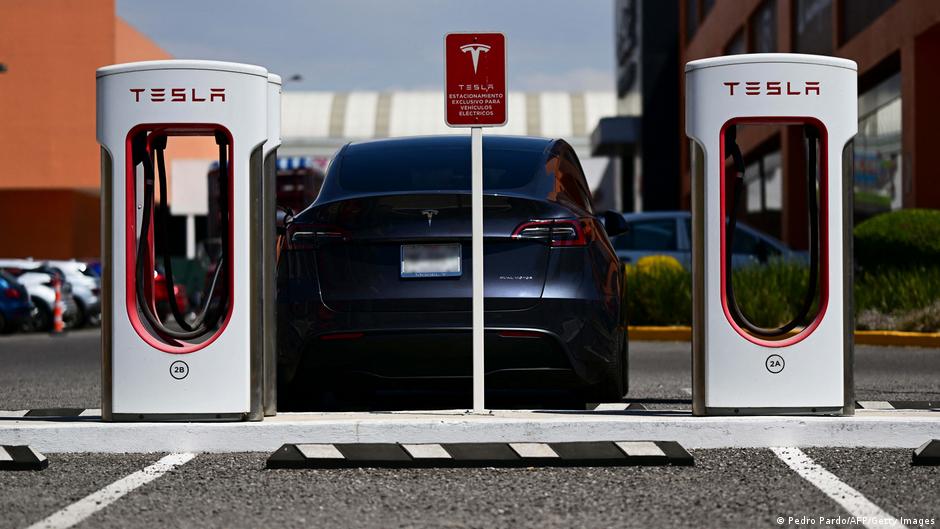 It was a minor highlight at what was otherwise, for many, a rather disappointing investor day for electric car manufacturer Tesla on Wednesday at the company's headquarters in Austin, Texas.
Tesla CEO Elon Musk unveiled a model of a planned Gigafactory in Mexico following an announcement the previous day by Mexico's president, Andres Manuel Lopez Obrador.
During a three-and-a-half-hour presentation, Musk outlined how Tesla plans to grow in the face of increasing competition. But the event revealed little about new Tesla products. Many investors had hoped to catch a glimpse of the next generation of Tesla vehicles but were left disappointed.
"We're excited to announce that we're going to be building a new Gigafactory in Mexico," Musk said at the event about the facility that will produce the company's next-generation vehicles. Those models will likely be smaller than the current one in order to drive down prices.
Tesla's new Gigafactoy is to be built in the northern state of Nuevo Leon in Santa Catarina, a city with a population of just over 300,000 and only a few hundred miles from Austin, where Tesla inaugurated its latest Gigafactory last April. The company also has plants in California, Shanghai and Grünheide near Berlin. Details were sketchy on the volume of investment, but it's thought to be around $5 billion (€4.7 billion).
The site near Monterrey had emerged as the best option due to its proximity to Texas and because of the readily available infrastructure and workforce. In addition, one of the companies there is Tesla's largest aluminum supplier, which would facilitate logistics.
Water scarcity as a point of contention
Last week Mexico's president had threatened to throw a spanner in the works and essentially vetoed the plant, citing the lack of water in the region. "If there is no water, the permits will not be issued. It's not feasible," he said.
It wouldn't be the first time. The current government had already canceled permits granted by their predecessors to beverage maker Constellation Brands for a new brewery in Mexicali, northern Mexico, because of water shortages. Nuevo Leon experienced an acute water shortage last year, which led to rationing and restrictions on water-intensive industries. There had also been a dispute over water at the plant in Grünheide, Brandenburg. The head of the local water board had warned of restrictions on drinking water.
Political background noise
Lopez Obrador stressed that "it's not just about water for the plants, that's not a problem, because treated water can be used. The problem is that any big investment brings more population, more services, more water, roads, sewers, and public transportation."
The governor of Nuevo Leon, Samuel García, on the other hand, said that his state had enough water for Tesla. He said they would work "hand in hand" with Tesla "so they can clarify and prove that they do not use water for human consumption and that the water they use is treated and minimal."
Lopez Obrador's focus on water may be more politically-driven than drought-related anyway, believes Gabriela Siller, chief economist at Nuevo Leon-based Banco Base, a financial group. The president had apparently tried to steer Tesla's investments to a state governed by his left-wing Morena party, such as Michoacan or Veracruz, she told Spanish daily El Pais.
A spokesperson for Mexico's Ministry of Foreign Affairs told Bloomberg news agency that the negotiations lasted 14 months and that Musk had offered various solutions to the problem of water shortages in Nuevo Leon. According to the statement, Tesla plans to use treated water to cool its towers, use a reverse osmosis system to treat water for painting vehicles where water demand is greatest, and collect rainwater among other initiatives.
Mexico: Boosting its car-friendly credentials
With that concern out of the way, Lopez Obrador can now focus on reaping the economic benefits, such as "a considerable investment" and "many, many jobs." Indeed, the new Tesla plant is expected to provide a further boost to Mexico's ambitions to establish itself as a hub for so-called nearshoring (the process of a company transferring certain segments or services to a neighboring country — the ed.) by US and international companies.
Several corporations that used to manufacture in China are pulling production from there against the backdrop of geopolitical tensions between the US and China and disruptions to global supply chains caused by the COVID-19 pandemic. Many see Mexico as a viable alternative.
The automotive industry is already a major pillar of the Mexican economy. Mexico is the seventh largest producer of automobiles in the world, and home to many US, European and Asian manufacturers. Just recently, German carmaker BMW announced an investment of more than €800 million ($848 million) in Mexico to integrate its San Luis Potosi plant into its global electric mobility network.
This piece was originally published in German.
Author: Andreas Knobloch (in Mexico City)