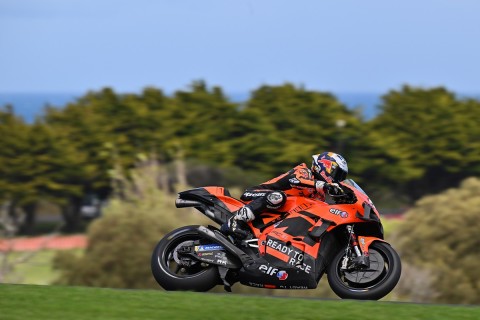 Last year, Raul Fernandez was one of MotoGP's rookies, coming in as runner-up in the Moto2 world, giving him high hopes on the part of KTM. However, the results and competitiveness were far from expected and the split was inevitable – with the rider now heading to CryptoDATA Aprilia RNF MotoGP Team.
Efren Vazquez, who works with KTM as a test rider, was asked by the El Mira website about what happened to Fernandez. In response, he said that there are gaps in the work that riders have in the access classes compared to what they find in MotoGP:
– He has very good qualities, MotoGP isn't easy. The problem is that the riders in their passage through Moto3 and Moto2 work very little on the evolution of the bikes and on the configuration with the engineers, and this lack of running is paid for in MotoGP.
In Vazquez's opinion, the drop in results will also have weighed on Fernandez, believing that his compatriot will recover at RNF: 'Raul's results were breaking and you lose a little motivation. At the end of the season, you pay for that feeling of not having the competitive weapons. The change of scenery will be good and I'm sure you'll get better results'.