Rome
The Eternal City, Rome is worth a visit at least once, with its beautiful architecture and monuments, great works of art, small-town charm, slow pace of life, and world-renowned food, albeit seeing everything it has to offer would take a lifetime. The Grand Romantic ruins, opulent monuments, graceful fountains, and ornate statues are all testaments to its wealth and beauty. it is a haven for shopaholics and fashionistas. Rome is a beehive of activity that offers jovial nightlife and an intense cultural and historic experience to its visitors.
In Rome, you will find some delectable dishes that you just cannot miss! There are some mouth-watering dishes and tasty dishes like Trapizzino – Pizza Pockets, Carbonara, and Pizza Tonda (Round Pizza) and many more. Continue reading to know more.
1. Trapizzino – Pizza Pockets
Trapizzino is a slice of pizza but with its sides closed. It is made with the same dough of soft wheat flour and yeast, and instead of pizza toppings layered over the dough; it is stuffed into a pocket. It is Roman street food readily available throughout Italy – its place of origin. Moreover, its fillings range from meat and meat sauces to sweet fruit and jellies or jams; the constant that remains is the pocket that hold the tasty filling!
The most popular places to try out Trapizzino – Pizza Pockets is Trapizzino Testaccio.
2. Carbonara
Pasta, eggs, cheese and cured pork make up this favorite Italian dish. The pasta is boiled and the pork, usually guanciale, is fried in a pan. A mixture of raw eggs, grated Pecorino cheese and ground pepper is then combined with the other ingredients to make a creamy sauce.
The most popular places to try out Carbonara are The Carbonara, Da Armando al Pantheon and InRoma – Since 1917 – Famous in the world for the best carbonara.
3. Pizza Tonda (Round Pizza)
Pizza tonda, also known as "Roman pizza", is a style of pizza originating in Rome but is now very widespread, especially in Central Italy. Most sit-down restaurants serving pizza in Rome serve this style, and indeed this is probably the most commonly found style of pizza in restaurants in most regions of Italy. The crispy thin crust pairs well with any topping(s) you desire.
The most popular places to try out Pizza Tonda (Round Pizza) are Pizzeria Tonda and Pane e Tempesta.
4. Pecorino Romano Cheese
Pecorino Romano cheese is a hard, sharp and salty cheese from Italy. It is made from sheep's milk and is usually aged for at least eight months to reach its full flavor. The cheese has a brittle, crumbly texture and is perfect for grating over pasta, breads or casseroles.
The most popular places to try out Pecorino Romano Cheese are Giesse84 – Agri In, Pecorino Romano and Da Armando al Pantheon.
5. Saltimbocca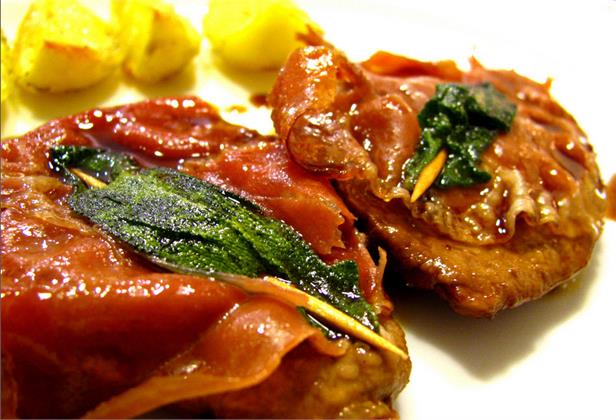 Saltimbocca alla Romana (Roman style veal slices) is a typical Roman dish. It includes tasty slices of veal, raw ham and sage added in for delicious flavor. Saltimbocca is a quick and easy appetizing treat. The name probably comes from its unmistakable taste. However, the origin of this dish is mysterious. Although Saltimbocca alla Romana is clearly a Roman term, some say the dish actually derives from Brescia. Regardless, it is one of the most famous dishes of Rome along with Carbonara. Saltimbocca is usually served with a side dish of pasta.
The most popular places to try out Saltimbocca are Cinque Wine & Deli Bar and Saltimbocca ristorante.
6. Fettuccine Al Burro
A classic Italian dish, Fettuccine Al Burro consists of fresh fettuccine noodles tossed with butter and Parmesan cheese. Similar to Fettuccine Alfredo, which is fettuccine noodles tossed in a creamy white sauce made of milk roux, butter, flour, garlic and grated Parmesan, Fettuccine Al Burro is a simple staple of Italian cuisine.
The most popular places to try out Fettuccine Al Burro are Flavio al Velavevodetto, Ristorante Alfredo alla Scrofa and Roscioli Salumeria with Kitchen.
7. Pizza Al Taglio
This type of pizza has its origins in Rome and is different from common pizza due to the shape of the slices which are usually square or rectangular. The name pizza al taglio literally means 'pizza by the slice/cut'. It is generally baked in large rectangular trays and each slice is sold by weight. There are many varieties of pizza al taglio that vary not only within areas of Italy but throughout the world as well.
The most popular places to try out Pizza Al Taglio are Bonci Pizzarium, Da Milvio and Pizzarium.
8. Deep Fried Artichokes
Possibly dating back as far as the beginnings of the Roman Empire, fried artichokes are about as close as you can get to experiencing the classic Roman lifestyle. Artichokes of various species are in season from November through the Spring. Flower buds need to be harvested before they bloom. They are then enveloped in batter and fried until golden brown. Lemon or garlic aioli often complement these culinary gems as a dipping sauce.
The most popular places to try out Deep Fried Artichokes are Cantina e Cucina and Piperno Restaurant.
9. Bigné
The Bignè is the Italian version of the French Beignet. Bignè are a baked pastry puff filled with custard or pastry cream and dust with powdered sugar. This delicious treat is not overly sweet and goes perfectly with coffee. A very special version of the Bignè, the Bignè di San Giuseppe, is only made and served one day a year on St. Joseph's Day. Unlike the traditional Bignè, the Bignè di San Giuseppe is fried instead of baked, resulting in a scrumptiously soft. fluffy texture.
The most popular places to try out Bigné is Pasticceria Regoli.
10. Bucatini Amatriciana
Bucatini amatriciana is a classic Italian dish that uses a pasta (bucatini) that looks like spaghetti except the long noodle has a hole in the middle. The dish usually contains smoked pork, sweet tomatoes, chili peppers for heat and a sharp cheese like pecorino. It is very popular in the Lazio region of Italy, in particular Rome.
The most popular places to try out Bucatini Amatriciana are Trattoria Vecchia Roma and La Matriciana.
11. Carciofi Alla Romana
Carciofi alla Romana is one of the most famous artichoke dishes of Roman culture. Romanesco artichokes are marinated and simmered in an herb-seasoned bath of white wine until tender. The artichokes are then infused with the light, fragrant flavors that surrounded them. This dish is found in households and restaurants throughout and around Rome.
The most popular places to try out Carciofi Alla Romana is Nonna Betta.
12. Coda Alla Vaccinara
This Italian dish is known as the quintessential meal of Roman cuisine. Coda alla vaccinara, which translates to oxtail stew, combines braised oxtail meat which is known to be very flavorful along with several different types of vegetables. The most notable and common vegetable used in this dish is celery.
The most popular places to try out Coda Alla Vaccinara are Checchino Since 1887 and Otello.
13. Gelato
Gelato is a classic Italian dessert made with slowly churned milk and natural flavorings. A distant cousin to ice cream, Gelato is made with milk instead of cream and churned at much slower speeds than an ice cream mixture. Gelato is also kept at a warmer temperature than ice cream, allowing the dessert to stay soft. Ounce for ounce, the rich tasting Gelato has less calories and fat than ice cream.
The most popular places to try out Gelato are Otaleg, Giolitti and Günther.
14. Gnocchi Alla Romana
Gnocchi alla Romana is a popular dish in Europe, specifically Italy and France. It is a delicious dish that is made with semolina flour for the original Roman recipe. For the usual recipe, it is made with potatoes. It is a dumpling food and round shaped.
The most popular places to try out Gnocchi Alla Romana are Matricianella, Osteria da Fortunata. and La Passion.
15. Pajata
This dish was created in Rome and has its origins in the slaughterhouse district. Using the unwanted bits of animals that are usually discarded (organ meat), dishes such as this basically turned waste into a local delicacy. Pajata, which is traditionally made from a suckling calf's intestines, can be grilled and is also sometimes cooked in tomato sauce and then served over rigatoni.
The most popular places to try out Pajata are Matricianella and Trattoria Perilli.
16. Rigatoni Carbonara
Rigatoni carbonara is an Italian pasta dish that traces its roots to mining towns near Rome. The generous amount black pepper on top of the dish was thought to look like the carbon covering the hands and clothes of the miners. This hearty pasta dish, made with cured pork jowls (guanciale), fresh eggs, and pecorino cheese was a great reward for a hard day's work. While the classic version does not have cream sauce of any kind, variations use a sauce made with pasta water, fresh eggs, parmesan cheese, and the rendered fat from the pork.
The most popular places to try out Rigatoni Carbonara are Pipero al Rex, The Carbonara and L'Arcangelo.
17. Saltimbocca Alla Romana
Saltimbocca alla Romana, or "Roman style veal slices," are a celebrated dish in Roman cuisine consisting of slices of both veal and ham seasoned with sage leaves. This dish packs a delicious and unmistakable punch of flavor and is traditionally served after a first course of pasta. Along with Carbonara, Saltimbocca alla Romana is one of the most well-known dishes in Rome, despite ongoing disagreements about where the dish truly originated.
The most popular places to try out Saltimbocca Alla Romana are Saltimbocca restaurant and Armando al Pantheon.
18. Suppli Al Telefono
Suppli are fried rice balls, usually made with risotto rice, that are stuffed with beef and mozzarella. When the balls are torn in half and separated, the cheese makes a sting that looks like the cord of a land-line telephone. Because of this, they are known as suppli al telefono. They are served in pizzerias all over Italy as an antipasto.
The most popular places to try out Suppli Al Telefono are localaromas, Supplì Roma and Supplizio.
19. Tonnarelli Cacio E Pepe
Eat like the Romans with this classic pasta meal. Tonarelli cacio e pepe is made with pasta, grated Pecorino Romano cheese and black pepper. Tonnareli, a type of square, rough pasta made with egg, is traditionally used. Once boiled, the pasta, along with a little of the hot cooking water, is poured over the cheese and black pepper. The heat helps the cheese melt and stick to the pasta, creating a creamy sauce.
The most popular places to try out Tonnarelli Cacio E Pepe are Felice a Testaccio, Osteria Cacio e Pepe and Tonnarello.
Plan a trip to Rome at affordable prices!