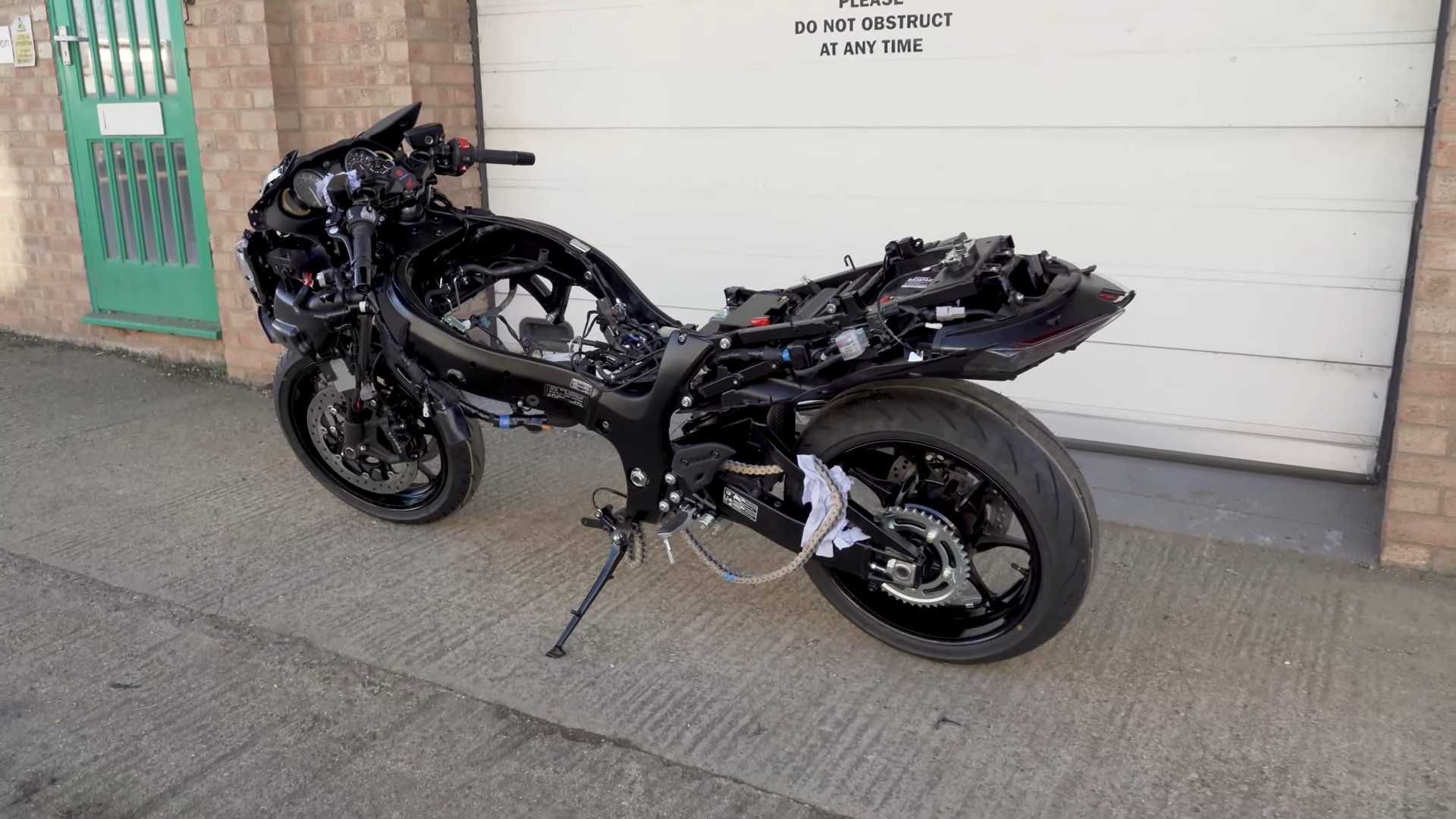 It starts life as a sweet, innocent, 2023 Hayabusa, but will turn into a raging SuperBusa by the end of this series.
TTS Performance first introduced its SuperBusa to the world in August of 2022. If you haven't been following along, that's exactly what the name suggests: A supercharged Suzuki Hayabusa. Subsequent dyno testing showed that the prototype made 372 brake horsepower and about 190 pound-feet of torque when all was said and done.  
Of course, since 2022 marked the company's 40th anniversary, the TTS folks decided to offer a limited run of 40 SuperBusa builds to customers. Since each one has to be crafted by hand from a shiny new 2023 Suzuki Hayabusa donor bike, customers can choose things like paint scheme and other customizable performance options.  
Now that it's February, 2023, TTS has also decided to chronicle the build process for a SuperBusa on its YouTube channel. This first video features its first customer SuperBusa build, which of course starts with a stock '23 Hayabusa, right off the showroom floor.  
Just Super Things:
TTS Performance Supercharges Triumph Rocket 3 To 342 Horsepower
What's the first thing you do with just about any custom build? You take it apart, of course—and even though this is a brand-new bike, for all intents and purposes, that's how this build starts as well. Off comes the bodywork, which will go away to be painted. The owner chose the same color scheme as on the prototype bike, but Richard Albans of TTS says it will be slightly improved over the first run because some things didn't turn out as perfectly as they would have liked. 
In this video, you can see the chassis of the bike, sitting empty and awaiting its new life. TTS already removed the engine, since it's going to need some supporting modifications in order to work well with the TTS supercharger setup. Since it's a brand-new machine, though, working on it will be almost a bit of a treat, because it's obviously much cleaner inside and out than an engine that's been in use for miles and miles.  
Richard gives an overview of the next steps in work that needs to be completed to get this SuperBusa together. The body work (and some body modifications) will be sent out for paint, and should come back in about a month or so. That's about how long the team expects this build to take, as it happens—so that hopefully, the owner should be able to get out and experience everything this bike has to offer by April, 2023, if all goes well.