The 1,301cc LC8 twin-cylinder engine that is included in KTM's '1290' models, including the Super Duke R Evo and Super Adventure, as well as the Austrian manufacturer's recently unveiled Brabus 1300R, looks set to receive a semi-automatic transmission in the future.
A new patent application from the Austrian brand reveals details of the new system, which includes an electric system programmed to change ratios, a centrifugal clutch to allow the bike to stop, and a 'park' mode so it doesn't shift when parked.
The transmission lock-up itself is a fairly simple design, where the "park" mode operates with a rotating L-shaped tab that engages with the gear teeth of the gearbox. However, the patent document describes the semi-automatic gearbox in detail with quite enlightening illustrations of the transmission.
Most of the components come directly from the 1290 series transmission, where the patent images even include the part numbers stamped on various components that allow us to identify the gearbox of the LC8 engine models.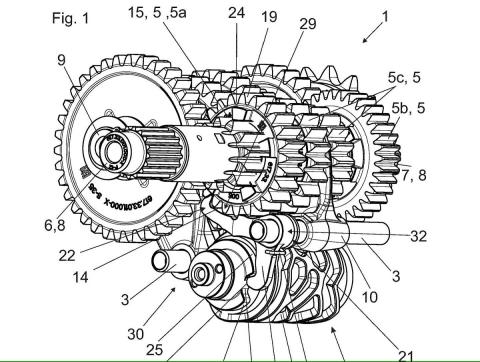 KTM was recently caught testing a prototype that appears to be a 1290 Super Duke GT Touring, and the bike featured a conventional clutch, however it is one of the models that can be adapted to this new semi-automatic transmission. The 1290 Super Adventure could also benefit from this update, as buyers of models like the Honda Africa Twin choose the DCT semi-automatic version.
This update would be important for the Austrian manufacturer, as it would compete with brands that already include the option of a semi-automatic transmission in their high-capacity models.