Fayetteville, Arkansas, is known to be the "Athens of the Ozarks," as it features beautiful scenery of nature. Guests should visit its Botanical Garden of the Ozarks, which will surely bring a sense of peace to everyone. Visitors can relax and unwind here. Aside from this, the city is also known to be an academic center, so be sure to check out the different universities located here.
In Fayetteville you will find some beautiful attractions that you just cannot miss! Places like Crystal Bridges Museum Of American Art, Arkansas Air & Military Museum, and Fayetteville Public Library and many more. Continue reading to know more.
1. Crystal Bridges Museum Of American Art
Founded by Alice Walton and officially opened in 2011, Crystal Bridges Museum of American Art. The museum has exhibits of the art of American artists from the colonial era to the present day. Museum mainly has paintings and sculptures by famous artists. The museum is spread in 217,000 square feet having galleries, meeting rooms, classrooms, a library, and a museum.
2. Arkansas Air & Military Museum
Arkansas Air and Military Museum displays a variety of aviation engines, military vehicles such as jeeps, trucks, ambulances, and military artifacts such as uniforms, helmets and also exhibits Arkansas aviators. A very interesting place to visit where children enjoy their best. World-famous racing planes are among the museum exhibits. This place attracts people who have a love for aircraft and the military.
3. Fayetteville Public Library
Fayetteville Public Library is a Leadership in Energy and Environmental Design silver certified library of Fayetteville. This was the first building in Arkansas to register with the U.S. Green Building Council in 2001 and in 2006, this achieved the silver LEED designation. This library was designed by Meyer, Scherer, and Rockcastle, Ltd. of Minneapolis, which was opened in 2004.
4. Fayetteville Underground
Initially, the art museum was present in the basement of One East Center, later it is changed to street level. Fayetteville Underground consists of galleries and artist studios that display paintings, photographs, sculptures, and pottery. All art is for sale and visitors are allowed into the studios to see the work of the artists. The art museum also hosts shows every month featuring artists. Other special events such as concerts and meetings are also held here.
5. The Northwest Arkansas Mall
The Northwest Arkansas Mall, located in Arkansas, is one of the best places to visit if you're looking to shop. The mall is perfect for all the shopaholics out there as it has over 570,000 leasable square feet where it is filled with stores of different kinds. This ensures that the mall has something for everyone.
6. Fayetteville's Funky Yards Sale
Fayetteville's Funky Yard Sale in Arkansas is a must-visit for those who love collecting vintage and antique items. The yard sale is a 10,000 square foot flea market filled with over 150 booths that sell a wide range of items. Most of the items sold are vintage, antique, and mid-century items. Check out the flea market where it offers something for everyone.
7. Heartwood Creations & Gallery
Heartwood Creations & Gallery, located in Arkansas, is a gallery with changing exhibits where visitors could see works of local artists. There are various exhibits of over 27 local artists' works such as pottery, painting, jewelry, and textiles. Visitors would surely have a great time looking at artworks that showcase the local culture of the country.
8. Son's Chapel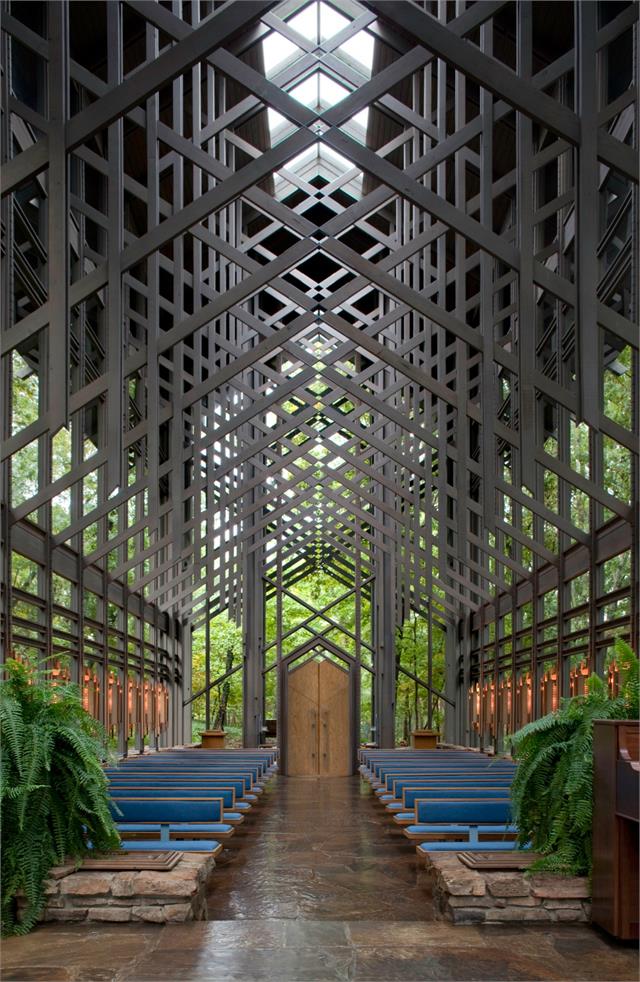 Son's Chapel is built between 1933 to 1937 by Michael Son. The church is of a single-story rustic fieldstone structure. It has a square tower at one end with arched windows around the church. The Son's chapel was used for both church activities and as a community school. The chapel is listed on the National Register of Historic Places.
9. Petit Jean State Park
Petit Jean State Park, located in Arkansas, is a must-visit for those who love the great outdoors as it offers wonderful views of nature. Visitors would surely love sightseeing and just admiring the beauty of nature. The park is also ideal for numerous outdoor activities such as camping.
10. Fayetteville Downtown Square & Gardens
Don McEneny, who died in 1985, developed the grounds. The gardens are operated by the city's Parks and Recreation Department and are located in the city's Downtown Square, which is located north of Reno, Nevada. The attractive downtown square is home to distinctive stores, restaurants, ancient buildings, and modern offices, as well as a variety of colorful flowers in the square gardens, which are meticulously kept from season to season.
11. Shiloh Museum Of Ozark History
Shiloh Museum of Ozark History mainly focuses on the Northwest Arkansas Ozarks. There is a research library with over 500,000 photographs of Ozarks. We can explore six historic buildings on the grounds of the museum.The inspiration for the museum's name is the pioneer community of Shiloh, which became Springdale in the 1870s. This museum is a great outing for families where they can walk through the past days of Arkansas.
12. Varieties Of Flora At Botanical Garden Of The Ozarks
Botanical Garden of the Ozarks in Arkansas features 6 acres of land filled with numerous flowers and plants displayed in over 12 gardens. Visitors will surely love the gardens as it also offers a tranquil and peaceful atmosphere due to their beautiful scenery. The garden is also home to numerous local flora and fauna which visitors could learn more about through the various signs and markings at the place.
13. Clinton House Museum
Before this museum came about, this building was the first home of Bill and Hillary Clinton, who became an American president and a senator respectively. When the two of them married and taught at the University of Kansas School of Law, this is where they used to live. Now programs, exhibits, and special events in the museum pay tribute to the couple's public service legacy.
14. Lake Fayetteville
Lake Fayetteville is a reservoir of Clear Creek created by Lake Fayetteville Dam in 1949 in Fayetteville, Arkansas. It features miles of running/biking trails, creeks, and a nice disc-golf course. Some notable attractions including Northwest Arkansas Mall, Lokomotion Fun Park, and Fiesta Square Shopping Center are all located within 2 miles of the lake.
15. Fayetteville Historic Square
Fayetteville Historic Square is located in Arkansas. The charming downtown square is home to many local activities. The buildings of the old Fayetteville post office and the old Bank of Fayetteville are found here. On Tuesdays, Thursdays, and Saturdays, the whole square bustles with people who come to visit the farmers' market to buy fresh fruits, flowers, and vegetables. The major attraction of the square is a variety of flowers and plants in the square garden that are tended from season to season.
16. Fayetteville Farmers' Market
Visitors looking for quality products will surely love the Fayetteville Farmers' Market in Arkansas. The market is known for offering quality produce and goods up for grabs. By buying from the market, visitors get to help the city grow into a healthier and greener community.
Book affordable flights to Fayetteville now!