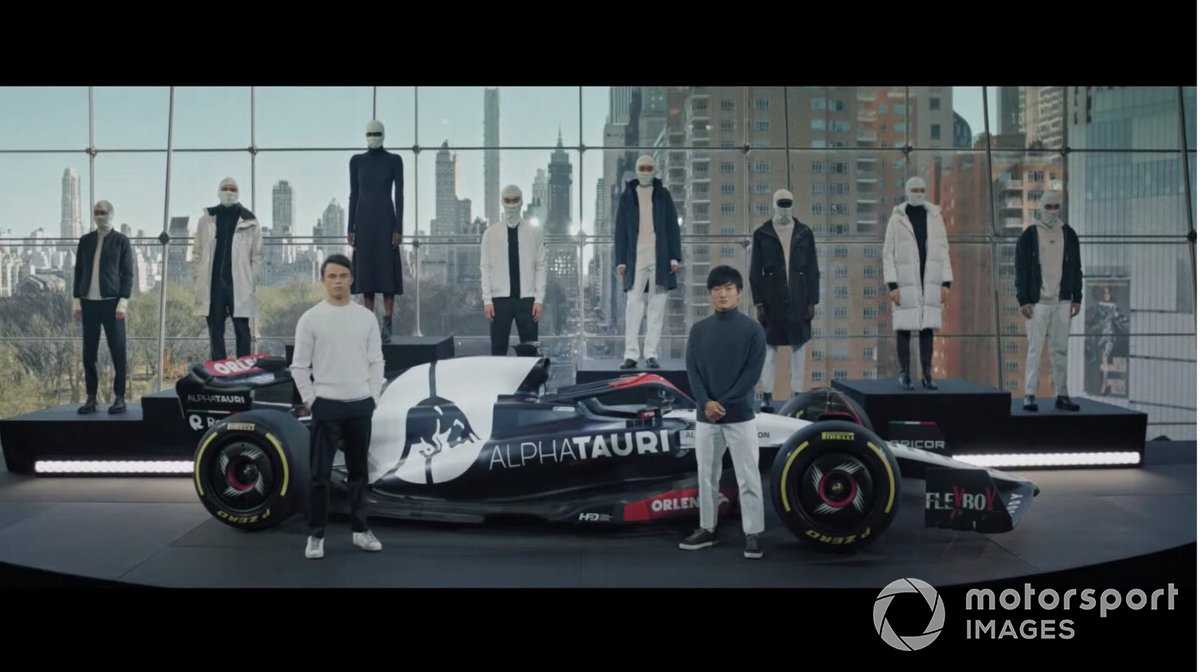 The Faenza-based squad showed off its new colours at an event hosted in the Lincoln Centre, during New York Fashion Week.
The tweaked livery features slightly more red than last year, which has been prompted by a new sponsorship deal with PKN Orlen.
Team principal Franz Tost said that the squad's decision to hold its livery launch in the United States was testament to the growth of F1 in the country.
"As we know, Formula 1 has seen a huge increase in popularity due to the likes of Netflix and social media over the last few years," he said.
"So, it's extremely important that we continue to grow in this market, which is why I'm pleased we were able to launch our 2023 livery here today in New York City to show our appreciation to the US audience."
AlphaTauri is coming off the back of a quite difficult 2022 campaign, where it finished ninth in the constructors' championship after failing to make the most of the opportunities of the new rules.
The team's biggest problem was a lack of consistency with its car, with Pierre Gasly and Yuki Tsunoda able to fight for some good points on some weekends but then being well adrift on others.
The AT03 appeared especially well-suited to slow speed venues but struggled more at the faster circuits when downforce demands increased.
There have been suggestions that the team will go for a different concept with its AT04 that could bring it more in line with what sister team Red Bull has done.
Read Also:AlphaTauri goes for "strong evolution" with AT04 F1 car as first images released
The 2023 designs that have been revealed by other teams are already pointing towards a number of teams taking ideas from last year's dominant RB18, so it would make perfect sense for AlphaTauri to follow suit.
AlphaTauri has also made some changes on the driver front with Gasly having been replaced by Nyck de Vries.
The Dutchman was signed by the team in the wake of his impressive F1 debut at the Italian Grand Prix, when he stood in for Alex Albon at Williams, taking a ninth-place result.
AlphaTauri has high hopes that de Vries, despite being a rookie, can help give the team the guidance it needs to move up the order.
Speaking last year, Red Bull motorsport advisor Helmut Marko said: "Of course. Yuki is young and doesn't have this experience and background, so [Nyck] should lead the team.
"We will see how it goes next year, but from the experience and the personality he has, he should be the team leader."