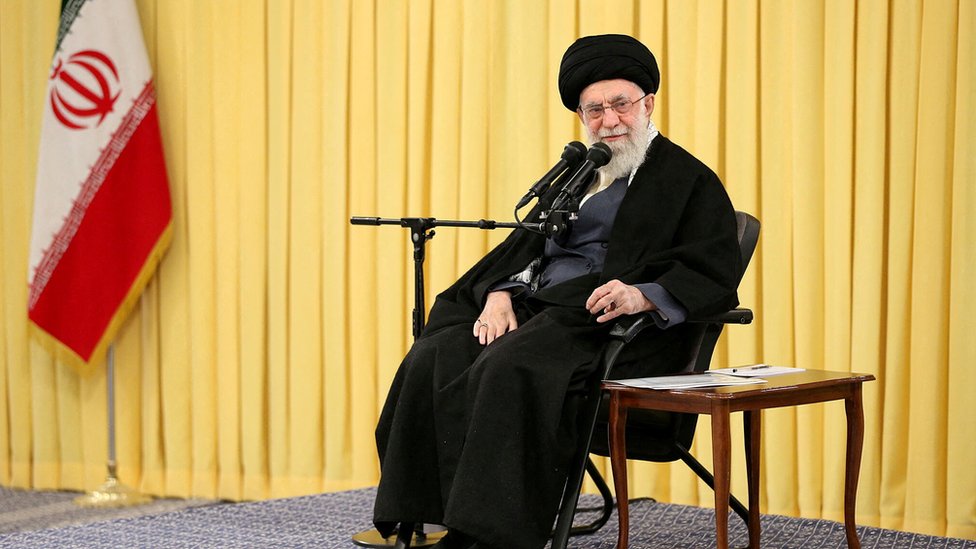 Iran's supreme leader has pardoned "tens of thousands" of prisoners, including many linked to anti-government protests.
State media reports the pardons by Ayatollah Ali Khamenei came with conditions.
The pardons come on the eve of the anniversary of the Islamic revolution in 1979.
Demonstrations erupted last September following the death in custody of a woman held by Iran's morality police.
Mahsa Amini, 22, was arrested for allegedly wearing her hijab, or headscarf, "improperly" – in violation of Iran's strict dress code for women.
Authorities have portrayed the protests – which are still continuing – as foreign-backed "riots" and at times have responded with lethal force.
Human rights groups say more than 500 demonstrators have been killed, including 70 minors, and around 20,000 have been arrested.
15 minutes to defend yourself against the death penalty
Identifying those killed in Iran's protests
A really simple guide to Iran's protests
Protests around the country have slowed considerably since the first of the hangings began.
Iran's state media says Ayatollah Khamenei's latest pardons came after a letter from the head of the judiciary framed many of those detained as young people who'd been led astray by foreign influence and propaganda.
The letter claims that a number of protesters had expressed regret and asked for forgiveness.
But those charged with more serious offences – such as spying for foreign agents, murder or destruction of state property – will not be pardoned.
The measure will also not extend to any dual nationals currently being detained.
Under Article 110 of the Iranian constitution, the country's supreme leader has the authority to issue pardons at the recommendation of the judiciary.
Sadeq Rahimi, the deputy judiciary chief, explained that those inmates who are qualified to be pardoned must pledge in writing that they regret what they have done otherwise, they will not be freed.
According to a report by the judiciary-affiliated news agency, Mizan, Mr Rahimi said that "for the first time ever" defendants who have not received any final verdict will be also pardoned.
Oslo-based group Iran Human Rights estimates that at least 100 people in detention are facing death sentences. It says that all defendants have been "deprived of the right to access their own lawyer, due process and fair trials".
Four have already been executed for crimes connected to the protests. In January two men were hanged for killing a member of Iran's security forces.
The pair launched an appeal before their deaths, saying they had been tortured.